BREEDING IS PROGRESS...
...that's why most of my breeding combinations only happen once.
Each breeding has a goal, that often is just a small step in a bigger plan that's stretching over generations. For the layperson or someone not let in on my plans it may not be obvious what's the idea behind it though you can be sure there is a plan. Have I succeded to get the offspring I was hoping for the cat will be altered - that's why my breeding cats usually dont stay entire for only a few years.

Currently we have no alters looking for a new home - though Skyclad may become available towards the end of the year.
As a breeder you often get accused of being egoistic in passing on "worn out" breeding cats - THE OPPOSIT IS TRUE!
A day has only 24 hours and usually also room is also not infinite, therefor the amount of cats anyone can look after is limited. So sooner or later the question is: Stop breeding or pet out alters?
I decided for the later. Many times alters are on the base of the pecking order in a cat group. Sometimes other cats act out their social climbing in bullying the now altered cat. Not least the alters deserve to get their own family where they are (together with 1-2 buddies) the center of attention.

It has proofen to be a good solution for everyone to find my young alters a new home - of cause it is important to find the right match.

There are many good reasons to adopt a mature cat: You see what you get, the cat has quite finished it's developement. The personality is already defined and they are not so wanton and active as kittens. Adult cats usually take only slightly longer to adapt to their new home. After a few weeks usually the ice is broken and it's usually clear if the cat is settling down or not. If the match is not right they can always come back to me.
But of cause there are also cats that will stay with me for life - some are special, some are to old to move or have developed habits or special needs no one else would be willing to cope with. Those alters I call my inventory cats - the have eraned the right of residence for life.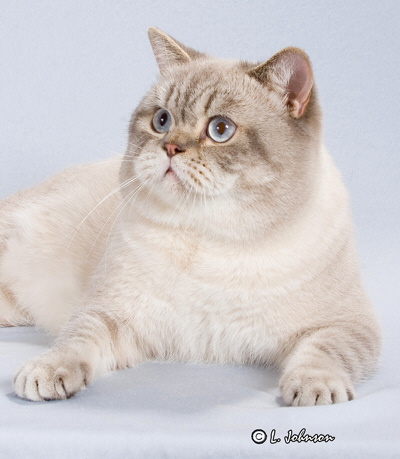 LA SGC Modany Easy Rider, blue lynx (tabby) point, geboren 11.9.2006 alias PRINZI
As a baby Prinzi was always sleeping on my pillow always looking for the softest spot - like the princess on the pea, that's how he got his name. Prinzi is my heart cat and will stay with me forever. He was neutered at 8 years old and never sprayed during the whole time as a stud boy, even though he didn't get to sire more than 15 litters. He has a very short dense coat and large blue eyes and round head. To breed a boy to follow in his steps has yet to be achieved. Prinzi had a phantastic show carrerin the showseason 2006/2007 he became 3rd Best British Shorthair kitten in TICA international and in the season 2007/2008 despite being just a teenager and lots of competition became 14th Best Shorthair Cat Europe North and first Supreme Grand Champion of his color. In showseason 2008/2009 he became International Winner, 10th Best International Allbreed Cat and 3rd Best International Shorthair Cat. As an alter he now finished his show carrer as 2nd Best Alter Europe South 2014/2015.
My cuddly bear will now appear on shows only at rare occasions.
CH Dramatails Blue Jasmine of Modany, blue spotted torbie and white Selkirk Rex, born July 20th, 2013 alias Löckchen pedigree
Löckchen should have become the second pillar to build our Selkirk breeding program on. Though the dopller scan provided an unpleasant surprise: She is PKD positiv. No one would have expected that as she was negativ in the genetic test (done by Langford). Upon asking for verification of the test result I was told that even in their studies done in 2007 2 out of 25 cats that were negativ in the genetic test scanned positive. Obviously there is more than the one gene that can be tested for causing PKD even in Persian related breeds.
Löckchen unfortunately is quite severly affected, one kidney is already 30% enlarged and shows little normal structure and also the second kidney shows several cysyts with up to 5mm in diameter. Luckily she survived spaying without incidents although she took markedly longer to recover from anesthesia than I was used from adult cats. She is now showing no signs of being ill and will stay here for her remaining time - the first prognosis was a life expectancy of 6-7 years.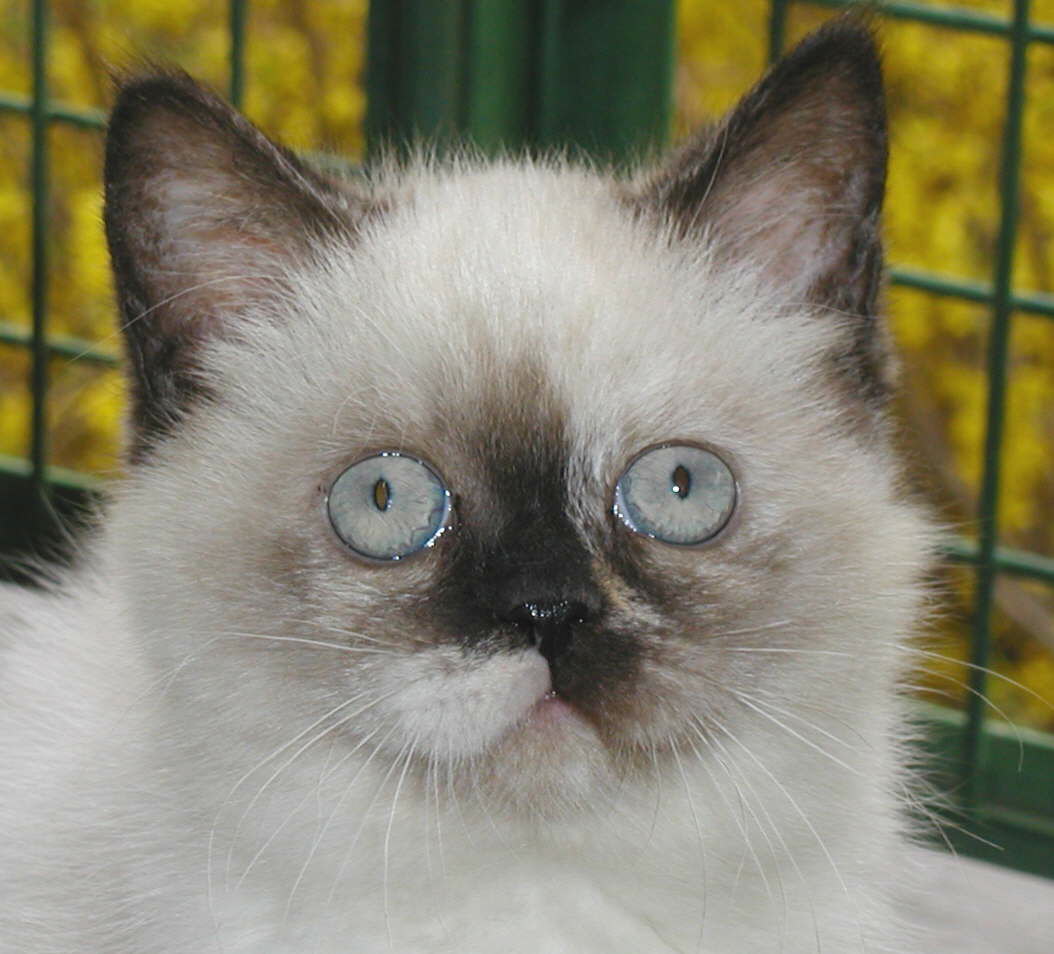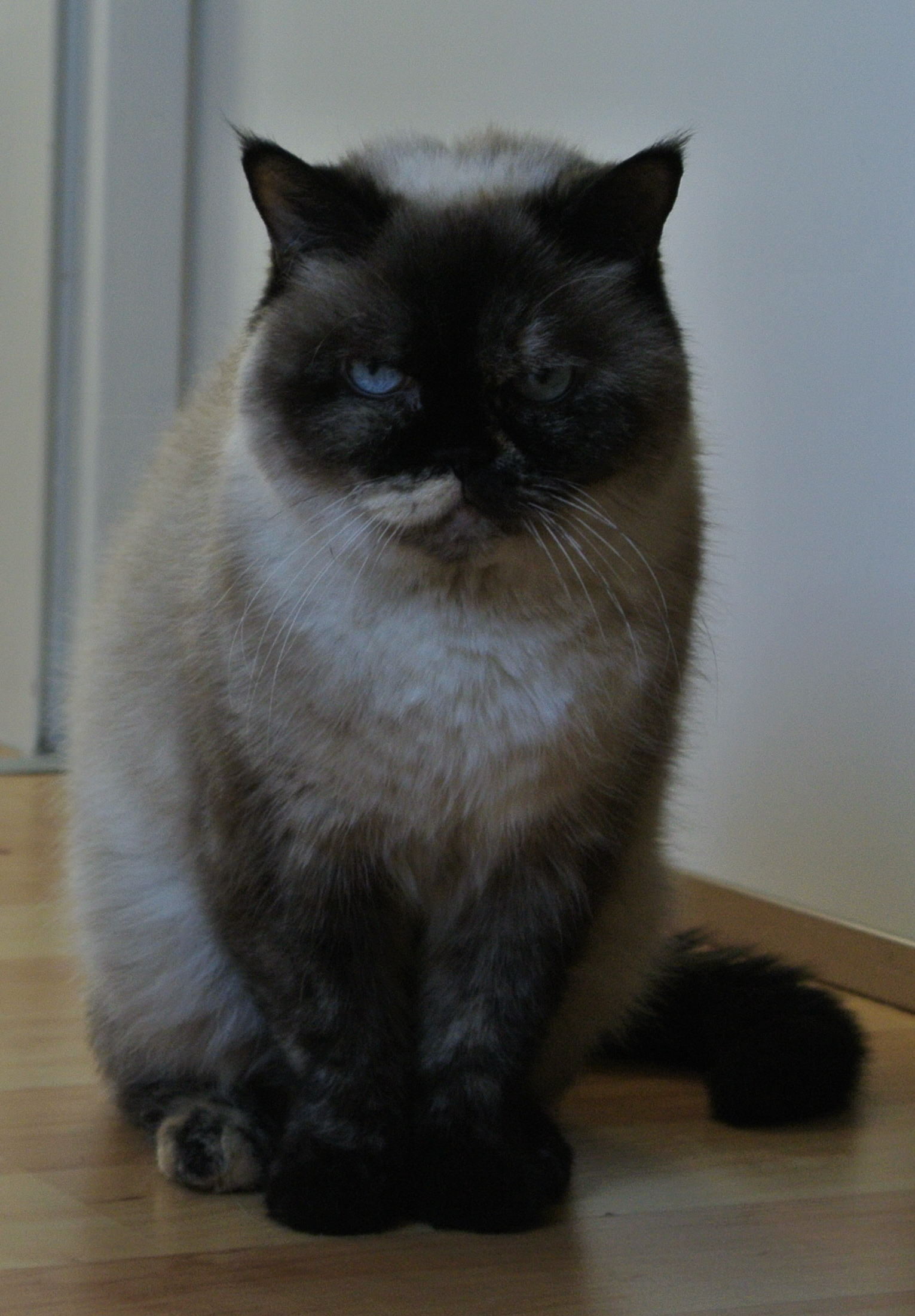 Modany Querida Mia, seal tortie point British Shorthair, January 24th, 2004 - October 10, 2016, alias MURL
Murl was never a breeding cat she got returned at 9 1/2 years of age.
In her first home the family did not really appreciate her so she came back for the first time at 1 year old. In her second home she had a good life with the company of other cats until a chronic disease of the owner and chronic diarhoe of Murl made it impossible for her to stay there - so she came back again.
We were not able to find the reason for her diarhoe and therefore were not able to put an end to it. So she is leaving her traces and her hydration has to be monitored. That aside she is an easy going girl and adapted well to my group where she will stay.
Meanwhile deseased are:


Modany Galileo, chocolate point British Shorthair, * April 1st, 2007 - November 7th, 2015
Galileo also was never a breeding cat. At 3 months old whe was suddenly in pain and didn't want to move or be touched. Even though he stayed at the vet clinic for a day it wasn't possible to figure out what was going on with him. He slowly recovered but would not allow anyone to touch him so he stayed. He was always moving slow like and old cat and wasn't able to clean himself everywhere which resulted in his coat matting at the areas of the back he couldn't reach. By the age of 3 years a had him put under anesthesia to clean him up and do a thourough health check. This resulted in the extraction of several teeth and the X-ray showed that 3 vertebras in his back were damaged which was the source of all his problems... fresh fractures are difficult to see in x-rays of kittens (as the bones are not yet fully calcified) that's why it wasn't noticed initially. Along with the years Galileo's movements became more ponderous, deposits on his demaged spine made t more ad mopre difficult for him to move... it was difficult to find the right timing to let him go.




Modany Jazz, seal point British Shorthair, * 19.3.2013 - 9.6.2014 alias SCHMUDL
Schmudl was my youngest special case. At 1 week old she contracted an uper respiratory infection which she was able to overcome with the support of a few days tube feeding. Although as it turned out the infection had affected the brain, she became epileptic and needed medication every 12 hours.
Already at 6 weeks it was obvious she was different - she played by herself, still trying to ingest solid food by sucking it, wasn't able to jump but climbed and didn't learn to use the litter box. I had already commited defeat and resigned to moping up what she left several times a day when she finaly at 4 months old learned to use the litter box... a few weeks later she had the first seizures. At least it weren't "Grand Mal"-seizures but only small convulsions that repeated within a few seconds. Some weeks passed until the second incident but when she had at löeast one seizure a day within a week we decided to go for permanent medication. Epileptic seizures drain a lot of energy and make very tiered. Affected cats eat with reveanous appetite and sleep more than normal. The medication makes them sleepy, sleeping too much leads to muscle degeneration so finding the right doasage can be tricky. We managed quite fine until Schmudl got into a permanent seizure that wasn't possible to interupt even with high dosage Valium so we had no choice than to let her go.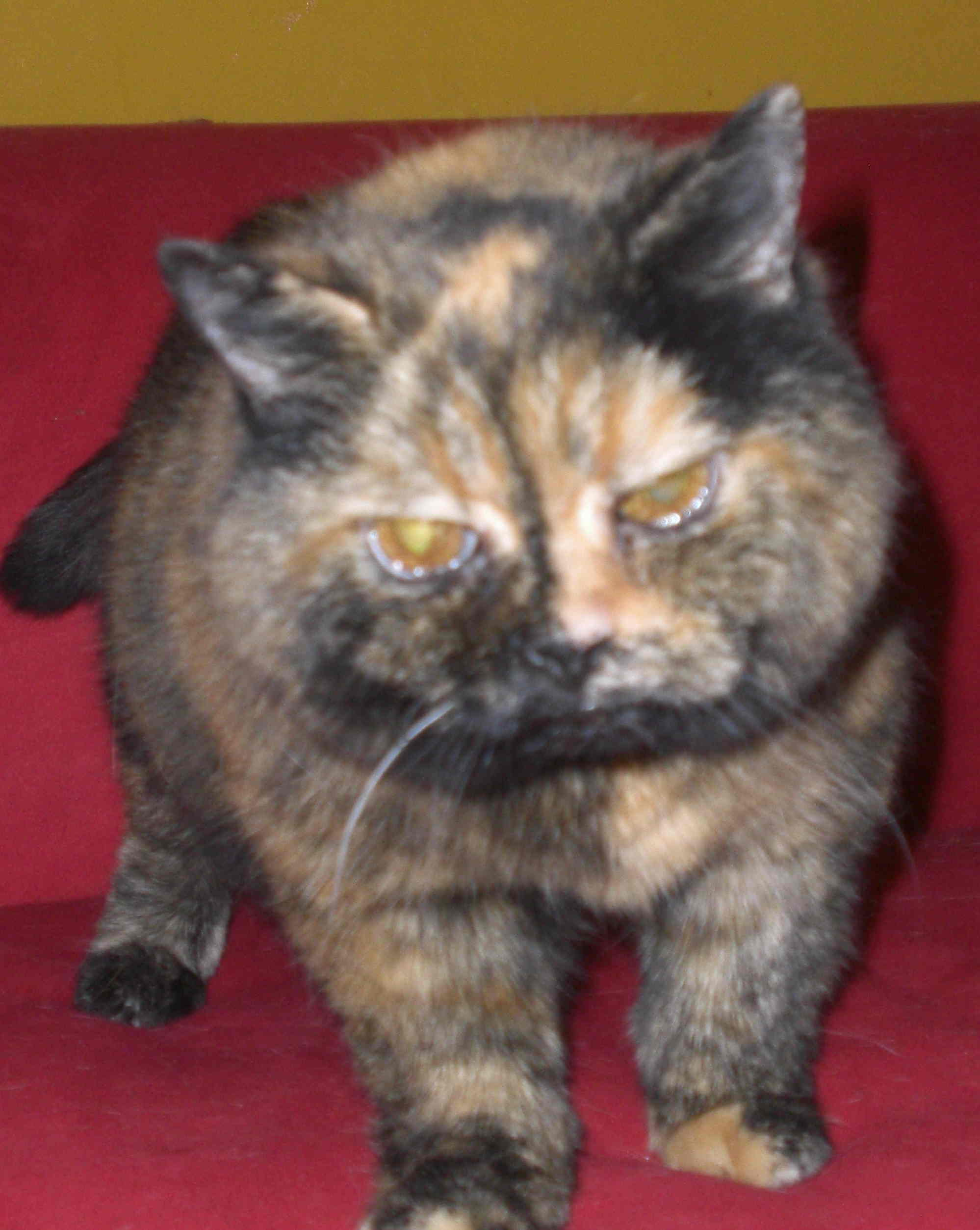 CH. Modany's Apocalypse Angel, tortie, * 5.5.1993 - 20.2.2013, alias ZWETSCHKE
Zwetschke was my first born - I was hoping for a black tortie and got one, that's why the name. She had a total of 4 litters with 11 kittens for me and was spayed when 6 years old.
She never liked shows so that was something we were done with fast - the showcage wasn't an issue but she didn't like being picked up all the time - typically British "4 on the floor" - picking up wasn't allowed at home either. Zwetschke was for a long time the ultimate boss of my cat gang, that changed with our moving in 2010 to Alland as it than showed that she must have gone blind slowly.
I had kept a black tortie - Kiss Me Kate - from her last litter, Vienna Calling is a great grand chil of Zwetschke and through her the line continues.
Top Notch is a great-great-great-great-great-grand child of Zwetschke.


RW CH Modany Vienna Calling, black tortie British Shorthair, *11.9.2000 - 9.2.2014 alias FLECKERL
(left picture at appr. 3 years old, right at the age of nearly 14 years)
Fleckerl was a black tortie with lots of red as I like it. She was a perfect mother and didn't mind some foster kids. She was easy birthing and in top condition by the time her kittens were 3 months old. These facts and that you dont always get what you are hopeing for were the reasons she stayed entire until April 2011.

2001 Fleckerl her fisrt litter with Modany's JJ Mc Wade, I was hopeing for a nice pointed girl to keep but there wasn't a single pointed kitten in the litetr.
2002 Fleckerl had a litter sired by Excalibur Freddy Mercury, the only girl in the litter went to a home where she had a litter with a pointed boy but unfortunately again no pointed offspring resulted from that.
2003 Fleckerl had her 3rd litter sired by Malsome Ohmypapa, cinnamon point, Pandora, lilac tortie, was the only girl in the litter and went to live with a new breeder friend of mine. Though for familiar reasons she gave up breeding and spayed Pandora before she had any kittens and I could prevent it.
2004 I repeated the breeding with Ohmypapa. This combination was ment to add type to the cinnamon breeding - Fleckerls was the typier of the two and even though her doughter Liesl was a step forward compared to her father she was a step backward compared to her mother Fleckerl. Therefore she shouldn't be the only offspring from Fleckerl to stay breeding.
2005 Fleckerl had a litter sired by a friends cream boy as she wanted a red girl from that combination. The red girl was born, went for breeding but had her first litter by c-section and was spayed and placed as pets like her kids.
2008 Fleckerl had her 6th litter sired by a ilac point white boy. There even was a very nice chocolate tortie point white girl in the litter - but as she had an umbilical hernia again nothing to continue the line.
2011 Fleckerl had a singleton - of cause a boy. So I had to give up my plans on a girl to follow Fleckerl's steps. Though I was lucky to have a litter with this boy and placed a boy out of him with breeder friends - so the hope in promoting Fleckerl's qualities continues.
When Fleckerl was 5 weeks pregnant with her last litter I found a pea sized lump between 2 nipples. By the time her son was 5 weeks old that lump, that turned out to be cancerous, had doubled in size and was removed surgically. 18 months later I found a lump in the armpit of her right frontleg which during surgery turned out to be way bigger than was obvious from the outside. Fleckerl recovered well from the surgery but eventually turned blind during the following 2 months (until February 2013) but handled it well. She died sudenly - on the morning of her last day everything seemed to be normal.